These are photos of the different methods I used on the 3D model.
After covering the base of the model with gesso I used a mixture of 50% black writing ink and 50% red calligraphy ink. Nothing scientific about the mixture - I hadn't got enough black ink and I find that this technique works better with writing (Quink) ink! These images were taken when the ink was still wet.
I then drizzled bleach on randomly while the ink was still wet.
These are close ups taken when the ink and bleach were both still wet.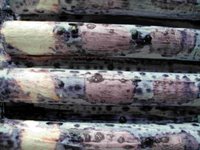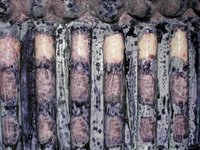 And these were taken when the ink and bleach had both dried out.
This was just the first technique. I'll post some more pictures tomorrow of the next stage.
I took some of the close up photos to work with me, bearing in mind that I work with 15 men not one of them could guess what they were!
I bought this DVD when I went to Ally Pally in October. Jean Draper had a stand showing some of her work. She is a very pleasant lady. I ummed and ahhed about buying it as it cost £20 - which isn't much in the grand scheme of things, but I had already spent a fair bit of money by this time. Anyway, I'm so glad I did. It was well worth it. You see lots of her work, her sketchbooks which are amazing, and her studio which is huge but perhaps not quite as long as this one! But best of all she explains how she gets her inspiration, exactly what she does to her pieces and even shows you the stitching, which is only one - whip stitch. So its like having your own personal workshop with Jean.
This company also make lots of other DVD's - Maker Profiles they call them. Jan Beaney, Jean Littlejohn and Barbara Lee Smith feature.
These are definitely going on my Xmas Wish List - so if you are reading this Chelsey, you can find them here.

Apologies for poor quality of photographs - especially when you click on them - I haven't managed to work out how to upload them properly yet.